Durable products. Sustainable investment.
The basis of our commitment to sustainability is to offer a selection of high-quality products, which has an impact on their long durability.
At Midimal we are committed to high-quality pieces that guarantee a sustainable investment and, therefore, a low environmental impact.
Our brands offer detailed information about the origin of the materials they use, the production techniques or if they use recycled materials.
In addition, many of its products have environmental seals and certifications such as: FSC™-certified, LEED, GOTS-certified, etc. You can consult more details about the environmental responsibility of our products on the website of each brand.
We work so that Midimal.es is an eco-efficient website
Midimal.es has a seal granted by THE GREEN WEB FOUNDATION that guarantees that Midimal.es is hosted on a server that uses renewable green energy, thus reducing the generation of emissions and saving energy.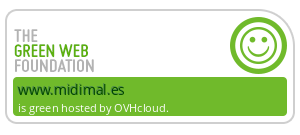 We also have a carbon emissions report ensuring that Midimal.es is cleaner than 83% of the websites analyzed in Website Carbon Calculator .
For a year, Midimal.es with 30,000 monthly visitors produces:
You can see the full report on Website Carbon Calculator .
Carbon Neutral Platform - All Midimal.es runs in data centers powered by renewable energy , more information at https://cloud.google.com/sustainability/